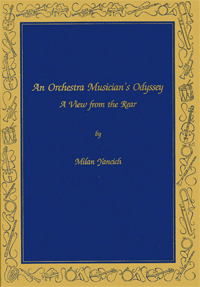 An Orchestra Musician's Odyssey, by Milan Yancich
All musicians, young and old, will be fascinated in reading Milan Yancich's, "An Orchestra Musician's Odyssey" (A View From the Rear). It is an account of a French Hornist's experience meeting and performing with many of the great musicians of this century covering all facets of a concert career.

The following personalities are a small part of his musical journey: Bohumir Kryl (world famous cornet soloist of the past); William D. Revelli and Howard Hanson (music educators); Philip Fardas, Arnold Jacobs, Adolph Herseth (artist performers and teachers); Carl Geyer (horn maker); Wayne King (dance band leader); Pierre Monteux, Fritz Reiner, Bruno Walter, Leopold Stokowski, George Szell (conductors).

Mr. Yancich illuminates vividly and authentically some of the darker aspects of the veiled often misunderstood undemocratic world of the professional symphony player. Some fifty famous and not so famous conductors are candidly assessed.
The Art of Brass Playing, by Philip Farkas
The Art of Brass playing is a treatise on the formation and use of the brass player's embouchure. It includes sections on the embouchure's function, mouthpiece placement, moist versus dry lips, the lip aperture, articulation, mouthpiece pressure and breath control. A must for all brass players, this includes photos of the embouchures of Adolph Herseth, Philip Farkas, Edward Kleinhammer, and Arnold Jacobs, among others. This book has become a standard in brass technique classes and at conservatories everywhere.
The Art of Musicianship, by Philip Farkas

The Art of Musicianship explores the skills, knowledge and sensitivity needed by the mature musician to perform in an artistic and professional manner. It has been used since 1976 in brass classes and music appreciation courses across the country. Topics of discussions include; Musicianship, phrasing, dynamics, tempo, rhythm, articulation, intonation, ensemble playing and stagefright, to name a few.